written by Matthew Pelowski
"Art and Neurological Disorders" is an exposé of how different neurological disorders may influence and/or relate to the artistic process, with a particular focus on visual art and painting.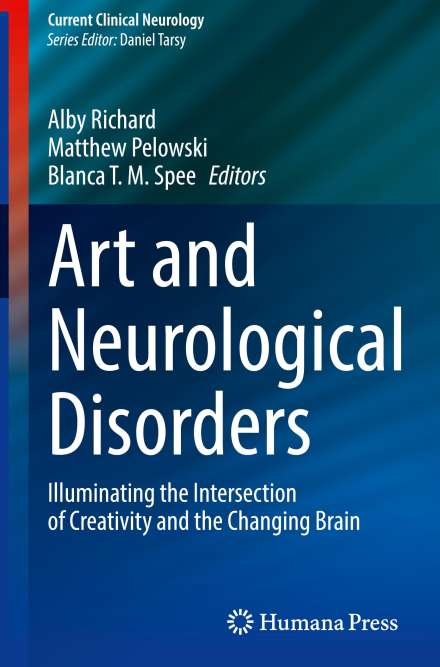 We just published a co-edited book on "Art and Neurological Disorders—Illuminating the Intersection of Creativity and the Changing Brain". The book was edited by myself (Matthew Pelowski, UNIVIE) and by Blanca Spee (Postdoc in my lab), in collaboration with Dr. Alby Richard MD, Faculty of Medicine, Department of Neurosciences, University of Montreal. The book is in the "Current Clinical Neurology Series," put out by Springer Nature. It tackles the emerging, and very intriguing, overlap between changes or differences in our brains, that might be attributed to neurological disorders (Schizophrenia, Autism spectrum disorder, mood disorder, etc.) or neurodegeneration (Dementia, Alzheimer's Disease, Parkinson's Disease) and differences in the way people make, or their interest in making, art. By exploring these overlaps in art interest, artistic creativity, choices for styles or abstraction, even our artistic ability itself, and the artist brain, we might reveal much about both how we approach the uniquely human act of art making and also how we might better understand different neurological disease. Not to mention, this might provide a basis for how art might be used in diagnosis or therapy.
The book includes chapters by several leading experts in neurology, psychology, neuroscience, as well as reflections by art therapists and working artists.
Richard, A., Pelowski, M., Spee, B. (Eds). (2023). Art and Neurological Disorders—Illuminating the Intersection of Creativity and the Changing Brain. Current Clinical Neurology Series. Springer Nature Switzerland AG, Humana Press: Cham, Switzerland. ISBN 978-3-031-14723-4. https://doi.org/10.1007/978-3-031-14724-1