written by Corinna Kühnapfel
"To evoke in oneself a feeling one has once experienced, and having evoked it in oneself, then, by means of movements, lines, colors, … so to transmit that feeling that others may experience the same feeling — this is the activity of art." (Leo Tolstoy, 1896)
ARTIS UNIVIE PhD candidate Theresa Demmer held a presentation on a new paradigm for studying visual art as a form of sharing emotions and communication using functional near-infrared spectroscopy (fNIRS) hyperscanning as part of the "Interbrain Processes" symposium at the 6th bi-annual conference of the European Society for Cognitive and Affective Neuroscience (ESCAN) held in Vienna July 19-22, 2022.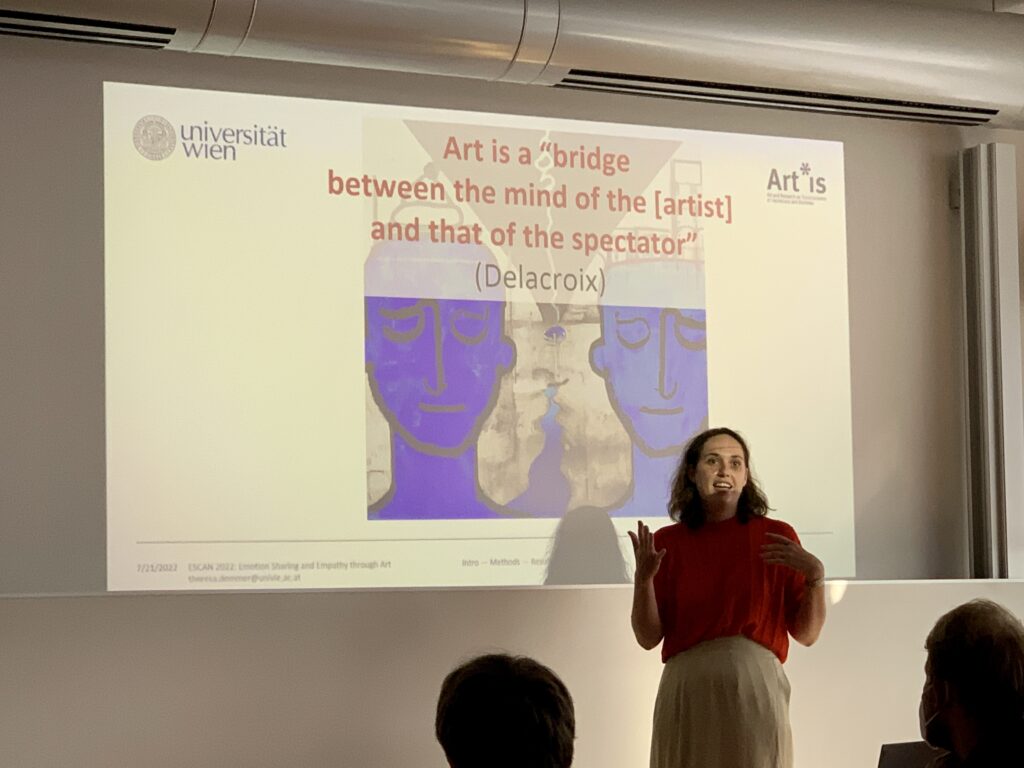 Abstract:

Emotion Sharing and Empathy through Art: A study of artist and viewer connections in behaviour and brain using fNIRS hyperscanning
Theresa Rahel Demmer, Corinna Kühnapfel, Matthew Pelowski
A fundamental aspect of humans—especially in social contexts—is our ability to process and project our and others' emotional experiences. Reading others' emotions and communicating how we feel are core aspects of empathy, theory of mind, communication, and social engagement. Although humans have a well-documented ability to communicate emotions via bodies and faces, another intriguing ability may also be how and when we do this using other means. Especially visual art is a form of communication that might be especially conducive to sharing emotional experience—'bridging minds' across the boundaries of time, language; space. However, the actual processes and incidence of emotional communication between artists and viewers, at the level of behaviour and especially the brain, has almost never been empirically considered. We introduce a paradigm in which we asked artists to make abstract drawings communicating specific emotions while brain activity was recorded via functional near infrared spectroscopy. We then showed a separate cohort the final drawings and videos of the making process, similarly recording brain activity, time synced to the artists. We show that, behaviourally, artists and viewers do show systematic ability to share emotion across drawings, which also correlates to specific, yet differing patterns of brain activity in target regions connected to emotion contagion, empathy, and perspective taking. Even more, using hyperscanning, we explore the relationship between successful connections—guessing artist intention—and synchronised activation patterns across both parties' brains, opening an exciting door for future arts-related emotion research.
Keywords: emotion, empathy, hyperscanning, fNIRS, theory of mind, empirical aesthetics
The full conference schedule can be found here.